Dussehra, known by various names such as Vijayadashami, Dasahara, Dusshera, Dussehra, and Dashain, is one of the most important and grandest festivals celebrated in India. It marks the tenth day of Navaratri and symbolizes the triumph of good over evil. This day is also called Vijayadashami, signifying the victory on the tenth day.
How do we celebrate the Dusshera festival in India?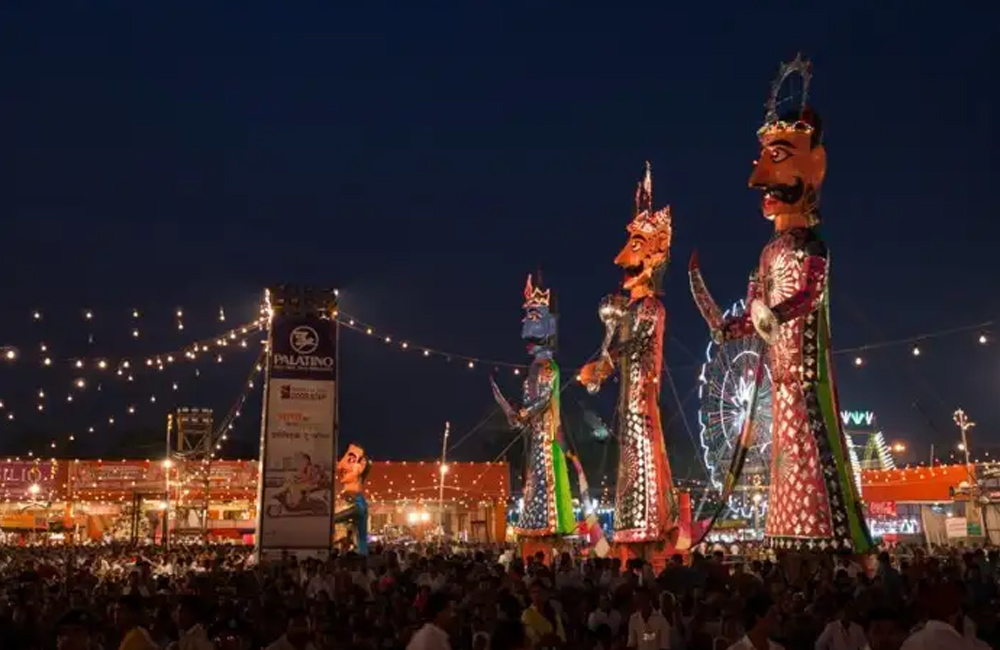 All around India, people celebrate Dussehra. Everyone is happy because this day reminds them that good things always win. But, in different places, the ways of celebrating might be different.
Importance of Dussehra Festival
Symbol of Victory: Dussehra celebrates the victory of Lord Rama over the demon king Ravana. It stands as a powerful reminder that truth and righteousness always prevail.
Celebration of Braveness and Courage: This festival is a celebration of Braveness and courage. It ignites a spirit of hope, resilience, and determination in the hearts of people.
Spiritual Restoration: Dussehra (Dasara) is also a time for spiritual awakening. Many people fast, meditate, and chant during these days, seeking blessings and guidance.
Dussehra/Vijaydashami: Tradition, Rituals, and Culture
Ramlila Performances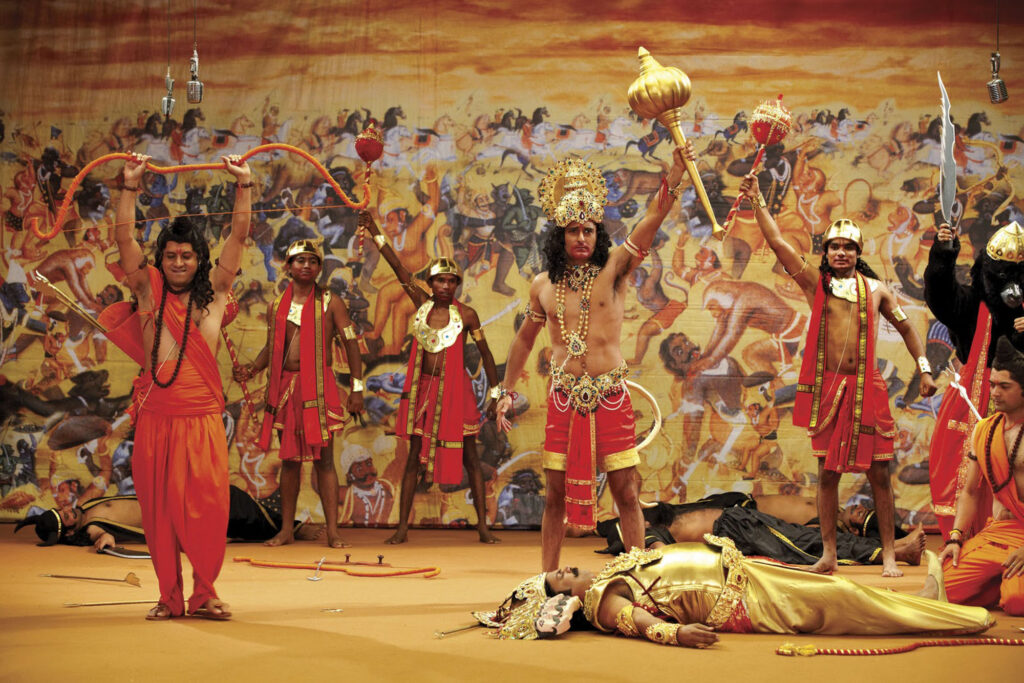 The Ramlila, a performance of the epic Ramayana, is one of the most well-liked elements of the Dussehra celebrations. It tells the story of Lord Rama's life., leading to Ravana's death on the tenth day.
Worshipping of Weapons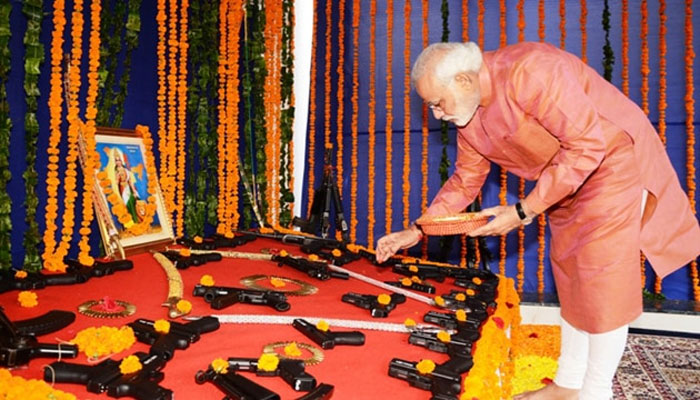 In regions like Karnataka and Gujarat, Dussehra is also a day to worship instruments and weapons (Sastra Pujan). This ritual is rooted in the historical practice when Kings would honor their armor and weapons, recognizing their importance in upholding dharma.
Eating During Dussehra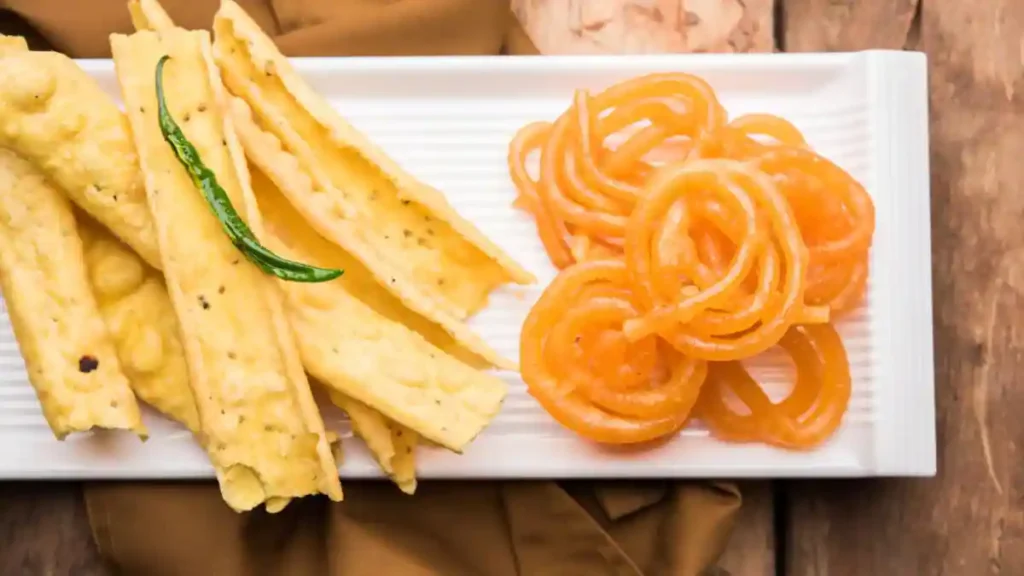 Food is a big part of any festival in India, and Dussehra in Gujarat is no exception. Here's what people in Gujarat like to eat Fafda-Jalebi during this time: This is a popular snack combo in Gujarat, especially on Dussehra. Fafda is a crunchy, salty snack made from gram flour. Jalebi is a sweet, syrupy dessert that's bright orange. They're often eaten together.
Ravan Dahan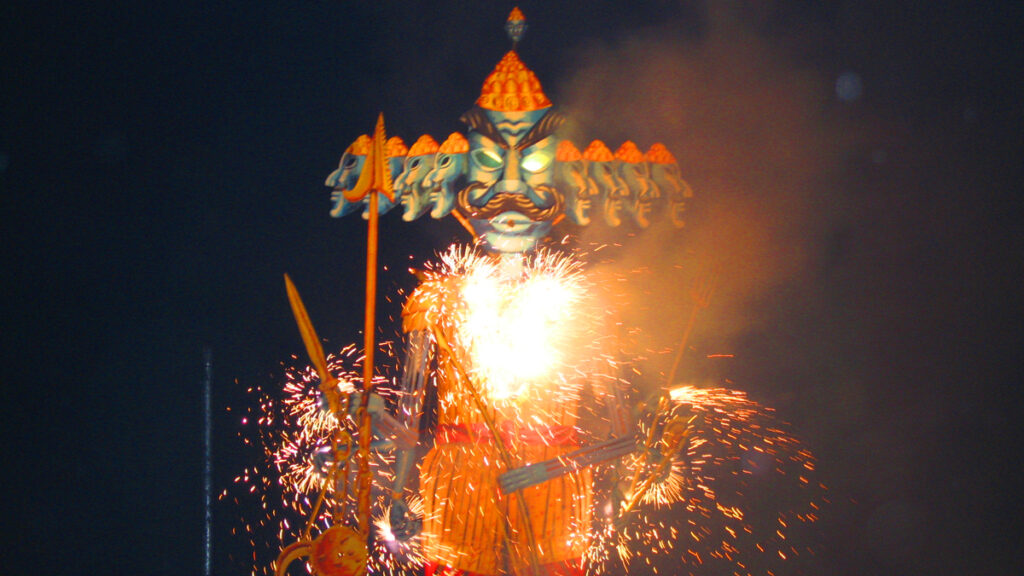 Especially in cities like Ahmedabad, the grand spectacle of Ravan Dahan is a major highlight. Giant statues of Ravana, symbolizing evil, are built in open grounds. Crowds come to witness the burning of these statues, which stands for the defeat of evil powers. Ahmedabad, with its rich cultural backdrop, witnesses one of the grandest Ravan Dahan ceremonies, drawing both locals and tourists alike.
Ravan Dahan in Ahmedabad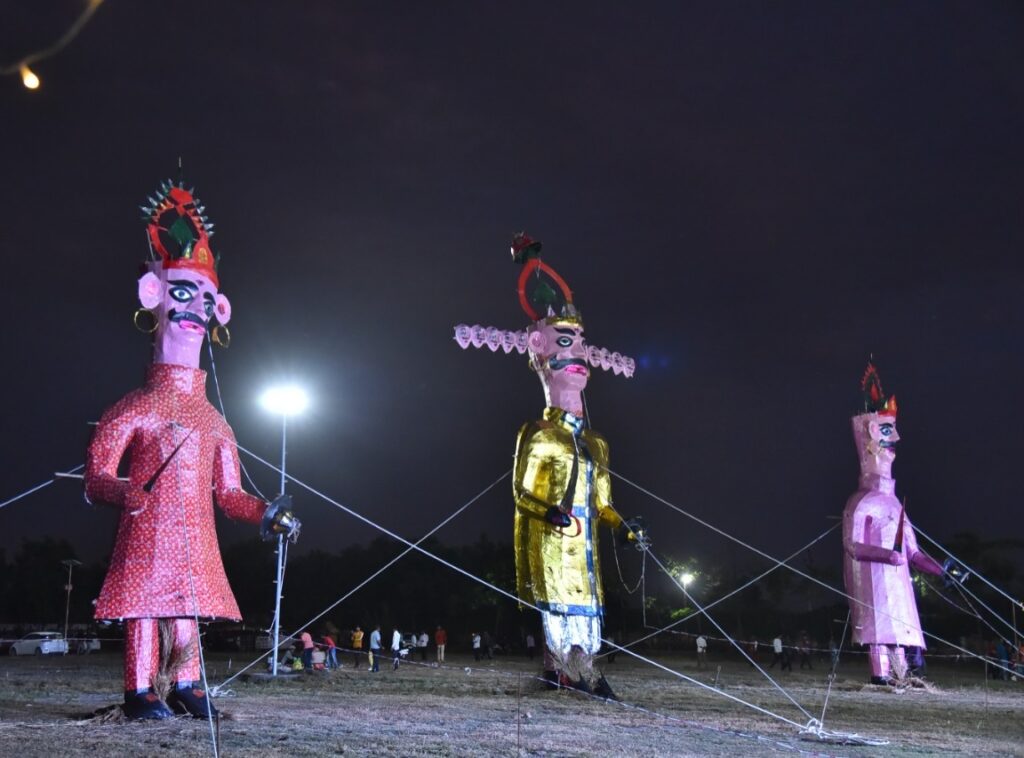 On this occasion, Their Lordships Sri Sri Radha Madhava are adorned in a special Alankara as Sri Sri Sita Rama and receive all the pujas of the festival. Sri Rama Taraka Yajna is performed by offering oblations into the sacrificial fire while chanting Sri Rama Ashtottara Shata Nama, 108 holy names of Lord Rama. The significance of Dasara celebrations will be narrated by a senior devotee of Hare Krishna Mandir followed by a Grand Golden Ratha Yatra.
Rama-Leela Dance Drama will be performed for the pleasure of their Lordships. After that 60 feet effigies will be burned down made up of fire crackers. In the temple hall, ceremonious Pallaki Utsava will be celebrated along with melodious kirtan. Come Be a part of it.
Date: October 24, 2023 Tuesday
Location: Hare Krishna Mandir ,opposite Ahmedabad Dental College, opp. Ahmedabad, Bhadaj, Gujarat 380060, India
Festival Schedule
| Time | Activities |
| --- | --- |
| 8:00 AM | Rama Taraka Homa |
| 06:30 PM | Swarna Rathotsava |
| 07:00 PM | Rama-Leela Drama/ Dance Performance |
| 07:30 PM | Ravan Dahan |
| 08:15 PM | Shayan Aarti |
Google Map
If you want to find out all places , just click the link TOP PLACES FOR RAVAN DAHAN IN AHMEDABAD. Click now and join the celebration of Vijayadashami.
Conclusion
Dussehra is more than just a festival; it's a lesson. It reminds us that no matter how tough things get, good will always overcome bad. Whether you're in Gujarat enjoying Fafda-Jalebi, watching Ravana burn in Ahmedabad, or simply spending time with family, the spirit of Dussehra is universal. Let's celebrate this day by embracing the good in us and in others, and hope for a brighter, better tomorrow.
You May Also like:
If you like this post and want to share the same with your friends you may follow us on our social media accounts on Instagram, Twitter, and Pinterest