Ahmedabad, with its vibrant blend of culture and tradition, eagerly looks forward to the festival of Vijayadashami every year. This festival marks the triumph of good over evil, and the burning of Ravana's statue, known as Ravan Dahan, is a central event. If you're planning to experience this rich tradition in Ahmedabad, here are some places that stand out for their unique celebrations.
1. Hare krishan temple (Bhadaj)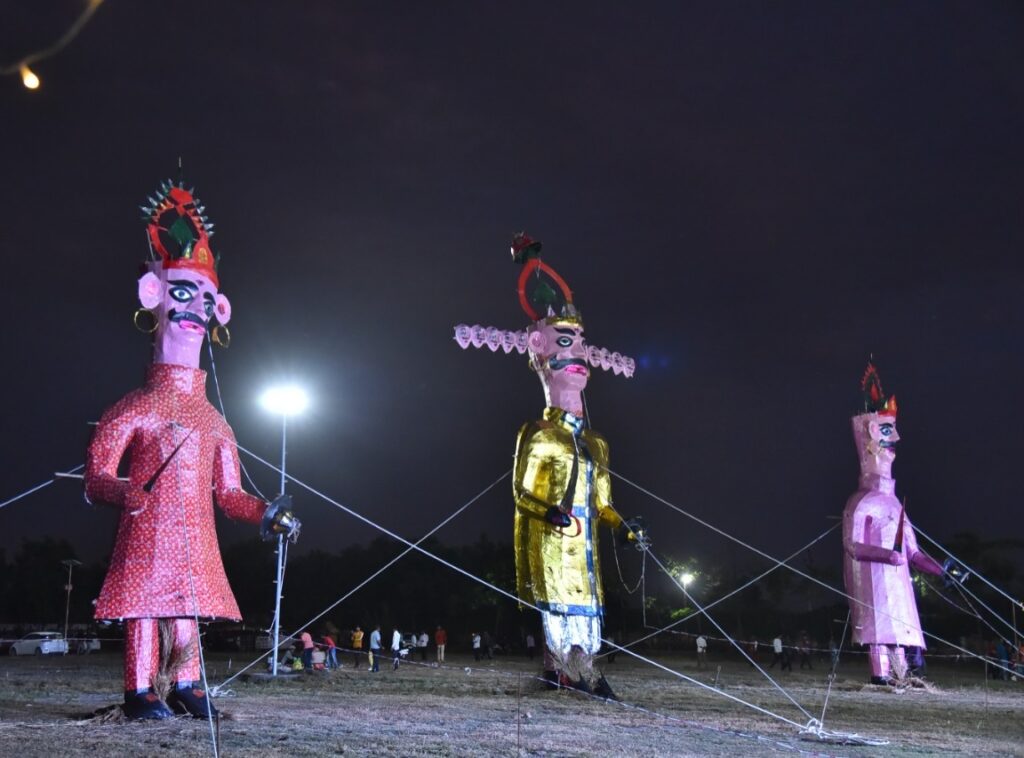 Rama-Leela Dance Drama will be performed for the pleasure of their Lordships. After that 60 feet effigies will be burned down made up of fire crackers. In the temple hall, ceremonious Pallaki Utsava will be celebrated along with melodious kirtan. Come Be a part of it.
Date: October 24, 2023 Tuesday
Location: Hare Krishna Mandir, Opposite Ahmedabad Dental College, Near Science City, Bhadaj, Ahmedabad, Gujarat 380060
Festival Schedule
| Time | Activities |
| --- | --- |
| 8:00 AM | Rama Taraka Homa |
| 06:30 PM | Swarna Rathotsava |
| 07:00 PM | Rama-Leela Drama/ Dance Performance |
| 07:30 PM | Ravan Dahan |
| 08:15 PM | Shayan Aarti |
Google Map :
2. Shri Nagarvel Hanuman Mandir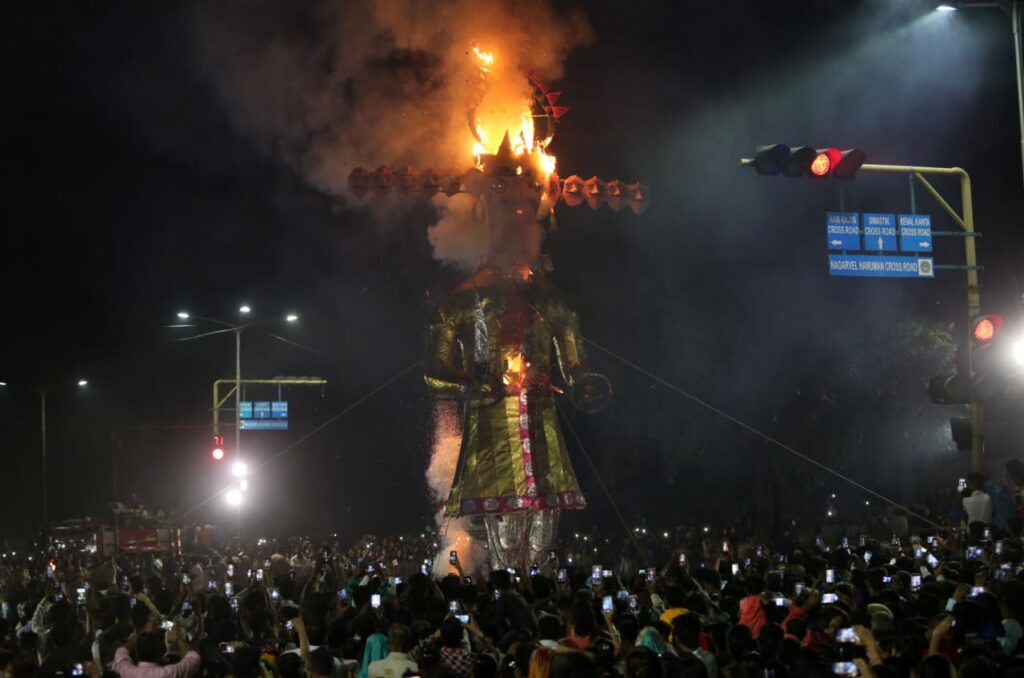 Shri Nagarvel Hanuman Mandir located in the eastern old part of the city, For many believers, the temple provides a haven. The temple doesn't just stop at Ravan Dahan, For many years, they've also been organizing Ramlila, telling the epic story of Lord Rama. The enthusiasm and community involvement is very visible, ensuring that these traditions are passed on to the future generations.
Date: October 24, 2023 Tuesday
Location: Nagarvel Hanuman Temple (નાગરવેલ હનુમાન મંદિર), Near Satyam Nagar, Industrial Area, Rakhial, Amraiwadi, Ahmedabad, Gujarat 380038
Google Map:
3. Khokhara Railway colony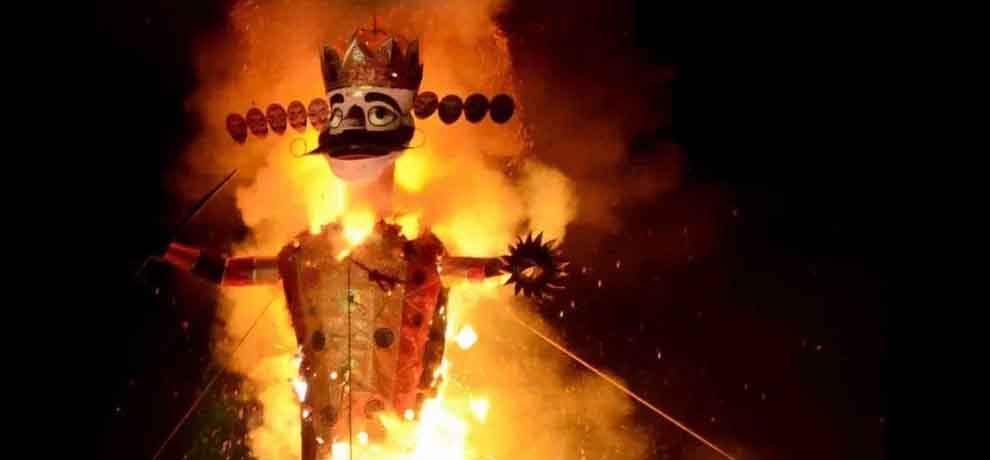 Khokhara Railway colony Conveniently situated near Maninagar, making it easily accessible for locals and visitors alike. Organized by the local residents, the Ravan Dahan here is a heartfelt community event. Vijayadashami's basics is felt deeply as they come together to destroy the Ravana statue. What's commendable is their commitment to safety and eco-friendliness, ensuring that the celebrations leave minimal impact on the environment.
Date: October 24, 2023 Tuesday
Location: Khokhara Railway colony ( ખોખરા રેલવે કોલોની), Maninagar East, Khokhra, Ahmedabad, Gujarat 380008
Google Map:
4. Sabarmati Railway Colony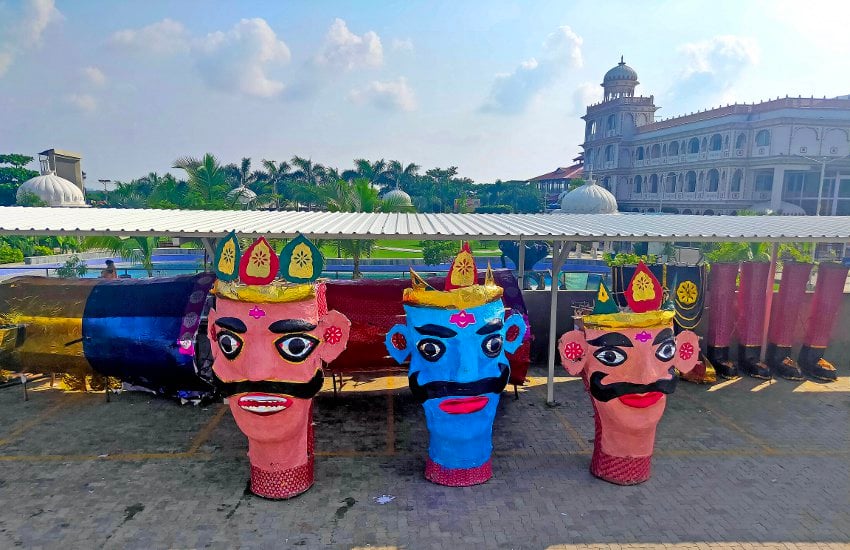 The event here is organized by the dedicated Punjabi community. The towering Ravana statue, which stands at an impressive 51 feet, has been a significant attraction. The colony takes pride in this tradition, having observed it for over 53 years. With each passing year, the event attracts more viewers, both young and old, making it a must-visit spot.
Date: October 24, 2023 Tuesday
Location: Sabarmati Railway Colony ( રેલવે કોલોની), Sabarmati, Ahmedabad, Gujarat 380019
Google Map:
5. Karnawati club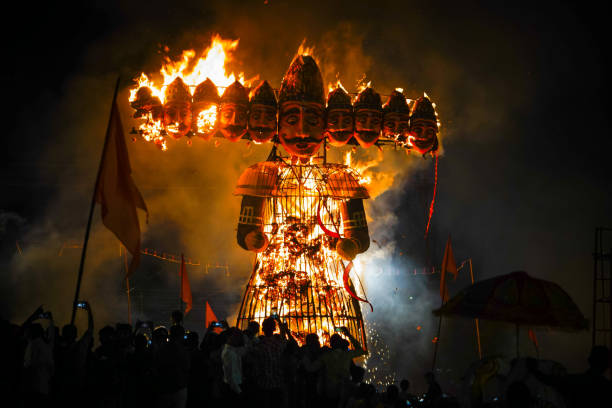 Well-known as one of Ahmedabad's premier clubs, it's a hub for social and cultural gatherings. Every year, the club grounds come alive with festivities as members come together for Ravan Dahan. The event is marked with cultural programs, folk dances, and the main event of burning the Ravana statue. It combines a lot of tradition with a touch of modernity, perfect for families and individuals to experience.
Date: October 24, 2023 Tuesday
Location: Sarkhej – Gandhinagar Hwy, opp. Shalby Hospital, Spring Valley, Mumatpura, Ahmedabad, Gujarat 380058
Google Map:
Conclusion
In simple words, Ahmedabad really knows how to celebrate Vijayadashami. The burning of Ravana's statues, dances, and gatherings show the city's love for its traditions. Each place listed above has its own special way of celebrating. So, if you're in Ahmedabad during this festival, make sure to visit these spots and enjoy the festive spirit with the locals.
You May Also like:
If you like this post and want to share the same with your friends you may follow us on our social media accounts on Instagram, Twitter, and Pinterest