Navratri, or Navaratri in Hindi, is an annual nine-night Hindu festival dedicated to Goddess Durga that symbolizes good over evil and calls upon followers of Hinduism for prayers, fasting and devotion as part of celebrating her deification and her victory over vice. Marking the start of festive season celebrations throughout India.
Garba is at the core of Navratri celebrations. Originating in Gujarat, this lively dance form brings people together wearing colorful attire to dance circularly under traditional music in colorful formations accompanied by lively traditional tunes. Garba represents more than simply dance; it represents joyous culture expression!
Navratri brings communities closer in joyous celebration of life and devotion through Garba nights that bring people of all ages together for rhythmic dancing celebration. Together, Navratri and Garba embody the vibrant culture of Indian society by unifying its diverse population through music and dance performances that offer mesmerizing spectacle.
When is Navratri in 2023?
2023's Navratri begins on October 15th with Shasthi and ends with Vijay Dashami on October 23rd.
Shopping Galore
Ahmedabad makes Navratri more than dancing; it is also an exciting shopping event with vibrant markets and bustling shopping areas offering traditional as well as fashionable items to enhance the Navratri experience. Let's examine this vibrant scene further:
1. Law Garden – The Shopper's Delight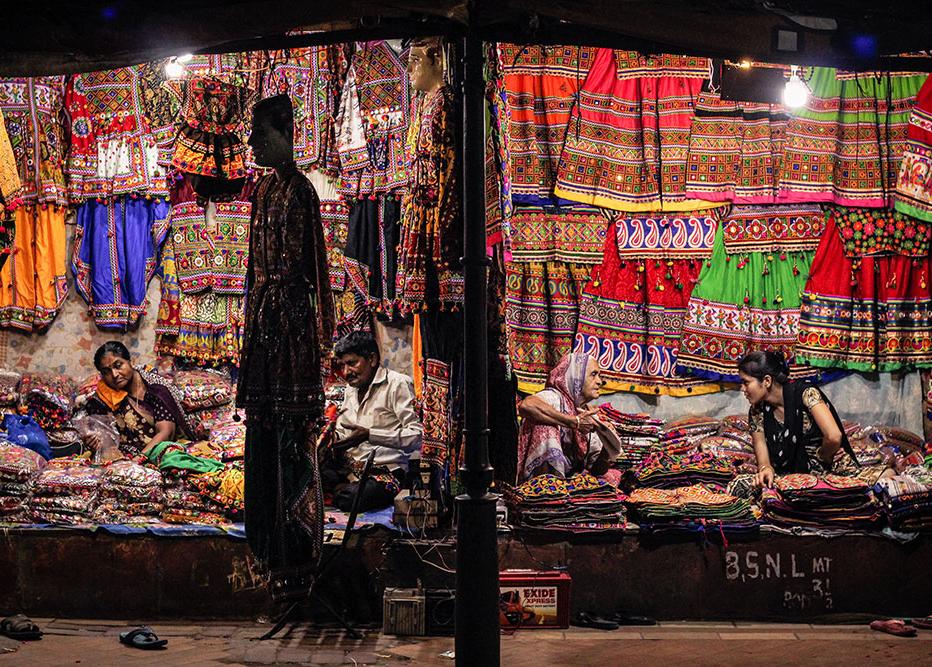 Law Garden serves as the hub of Navratri shopping in Ahmedabad. This bustling market area comes alive during this festival season with rows of stalls offering merchandise. Here are a few subtopics you should keep an eye out for:
Traditional Attire: Discover the vibrant world of traditional Gujarati attire! Law Garden has everything from women's colorful chaniya cholis to intricately designed men's kurtas; Don't be afraid to negotiate because bargaining is an integral part of the experience
Accessories : Add flair and character to your Navratri look by accessorizing with an array of accessories from oxidized jewelry and glass bangles, to embellished footwear – you have plenty of choices in terms of ethnic adornments!
Street Food Delight: As part of your shopping spree, don't overlook the many delectable street food stalls offering traditional Gujarati snacks like dhokla, fafda and jalebi for an incredible culinary adventure! It will surely satisfy.
2. Rani no Hajiro – The Heritage Bazaar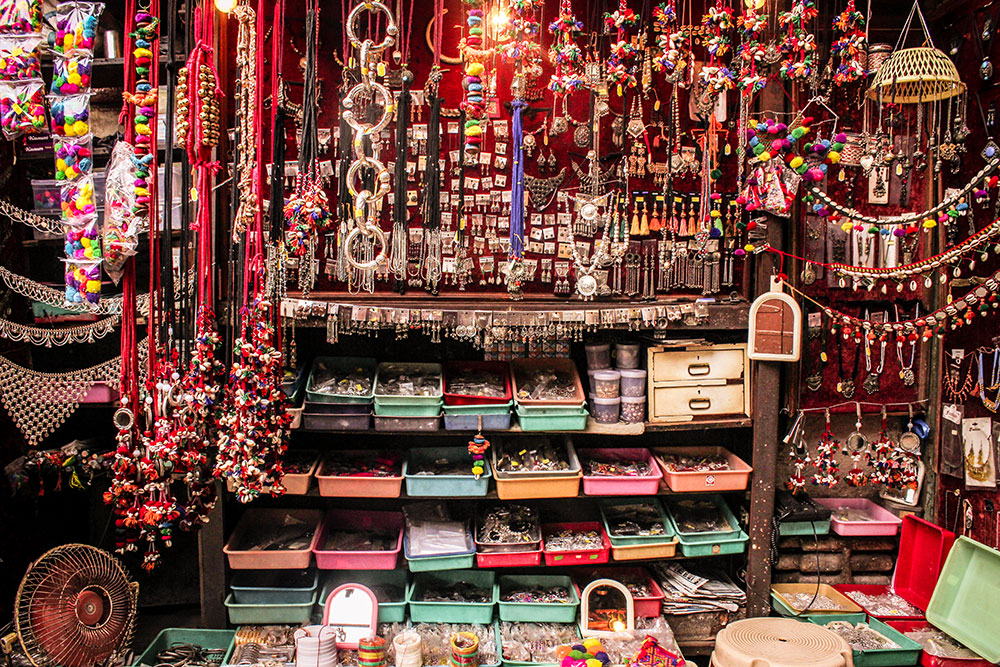 Rani no Hajiro, commonly referred to as The Queen's Market in Ahmedabad is an unparalleled treasure of this old city's bazaar scene and provides a special charm during Navratri shopping experiences.
Discover Antique Finds: Explore antique shops offering vintage jewelry, handcrafted home decor items, and traditional textiles as a treasure chest of unique items.
Rani no Hajiro will satisfy any saree enthusiast! You'll discover an unparalleled collection of traditional and handcrafted sarees here that tell a unique tale and feature impeccable craftsmanship.
3. Ratan Pol – The Chaniya Choli Hub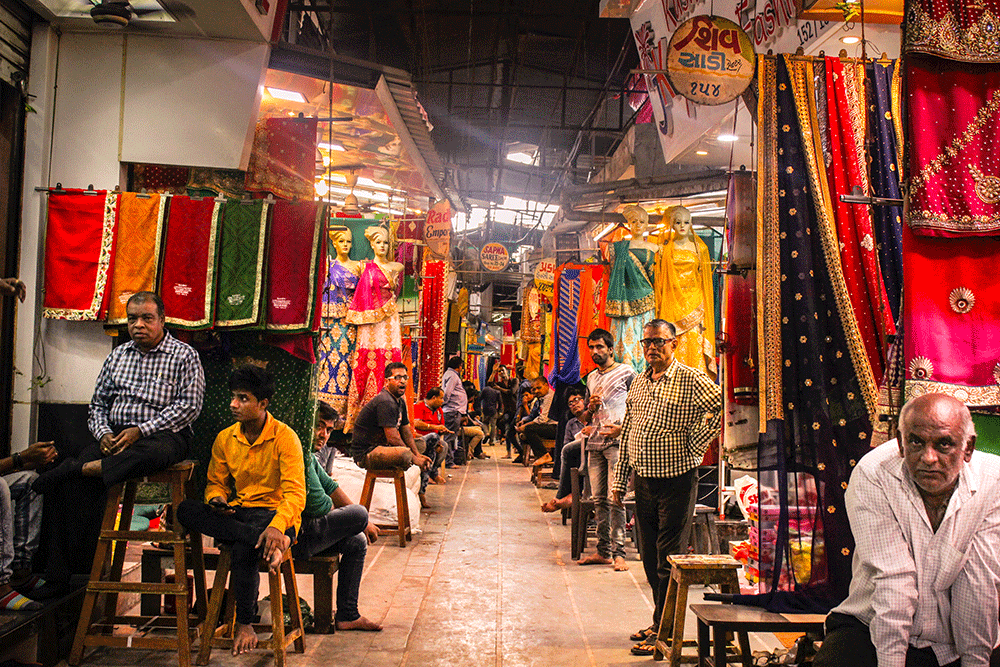 Ratan Pol in Ahmedabad offers the perfect Chaniya Choli ensembles for Navratri celebrations, offering an extensive variety of Chaniya Cholis to fit various budgets and tastes. This area is well known for providing shoppers with what they need in a flash!
Variety of Designs: Ratan Pol is known for offering an expansive collection of Chaniya Cholis that showcase diverse designs, colors and embellishments – from traditional, contemporary or fusion styles – so no matter your personal aesthetic there is sure to be something here that speaks to you!
Customization: Customization Services in Ratan Pol: Many shops provide customized Chaniya Choli services so that each Chaniya Choli fits exactly to your specifications, creating an outfit which is uniquely your own while still fitting perfectly. With this customization feature available at many shops in Ratan Pol, your ensemble is truly personal and fits beautifully!
4. Manek Chowk – The Jewelry Hub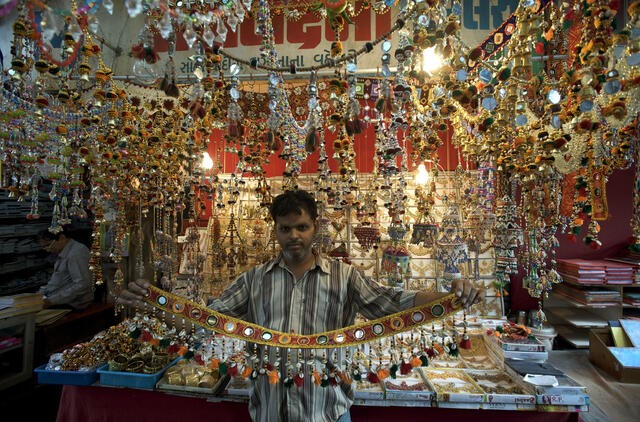 Manek Chowk is well known as an active vegetable market by day; however, during Navratri it transforms into something much grander!
Exquisite Jewelry: This market is well known for its exquisite jewelry stores. No matter if your taste leans toward modern or traditional temple pieces, here you will be sure to find something fitting your needs and your aesthetic.
Colorful Bangles: For Navratri ensembles to truly stand out, vibrant glass bangles are essential. At Manek Chowk we have an expansive collection of colors and designs so that you can mix-and-match to your heart's content!
5. Local Boutiques and Stores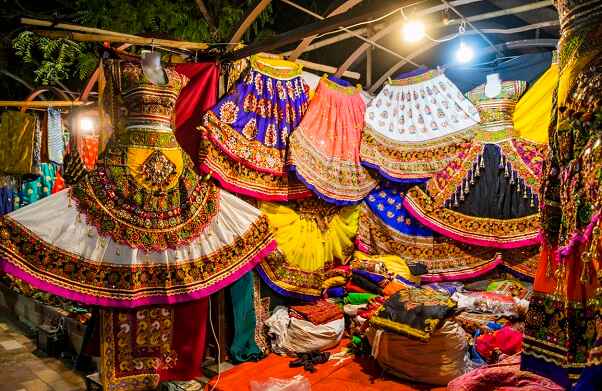 Alongside its bustling markets, Ahmedabad also features numerous boutiques and stores dedicated to unique Navratri outfits and designer fashion apparel. You can explore these boutiques for exclusive designs and personalized shopping experiences.
Discover Ahmedabad's Top Navratri Venues!
Discover Ahmedabad's finest party plots for unforgettable Navratri celebrations with this comprehensive guide! Easily book spots at Ahmedabad's most sought-after Garba venues while immersing in vibrant dances and cultural riches! Plus check our table listing artists, dates, and venues so that you don't miss catching any live performances of your favorites!
Garba Carnival 2023 (R.M Patel Farm)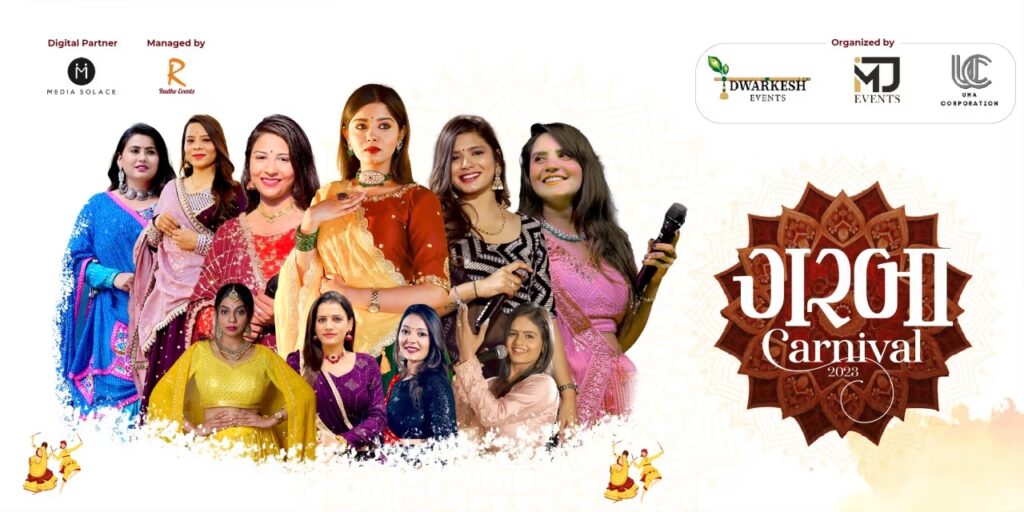 Name : Garba Carnival 2023
Party Plot: R.M Patel Farm
Venue : Sarkhej – Gandhinagar Hwy, Opp. Karnavati Club, Near. Mondeal Heights, Ramdev Nagar, Ahmedabad, Gujarat 380015, India
Price : 349 Onwords
Ticket : BookMyShow
Location : Google Map
| Date | Artist |
| --- | --- |
| 15/10/2023 | Khushbu Asodiya |
| 16/10/2023 | Jaimini Limbachiya |
| 17/10/2023 | Ridhi Vyas |
| 18/10/2023 | Rajal Barot |
| 19/10/2023 | Priti Patel |
| 20/10/2023 | Rupalba Dabhi |
| 21/10/2023 | Dharti Solanki |
| 22/10/2023 | Anita Rana |
| 23/10/2023 | Tarika Joshi |
| 24/10/2023 | Rutvi Pandya |
Amdavad Na Garba (R.M Patel Farm)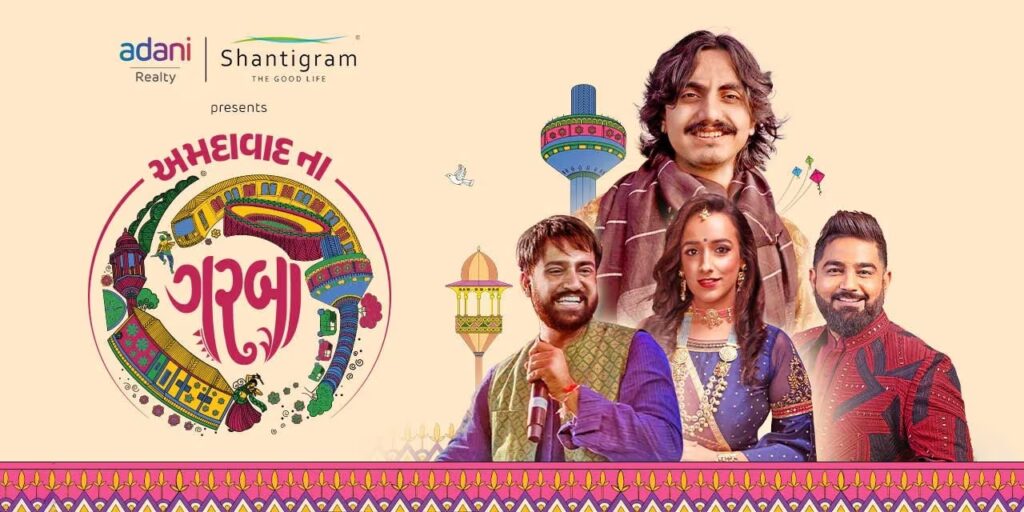 Name : Amdavad Na Garba
Party Plot: Adani shantigram Cricket Ground
Venue : Adani shantigram Cricket Ground,Near Vaishnodevi Circle, Shantigram, Ahmedabad, Gujarat 382421, India
Price : 1499 Onwards
Ticket : BookMyShow
Location : Google Map
| Date | Artist |
| --- | --- |
| 15/10/2023 | Bhumik Shah |
| 16/10/2023 | Raag Mehta |
| 17/10/2023 | Himali Vyas Naik |
| 18/10/2023 | Balraj Shastri |
| 19/10/2023 | Golden Cheers |
| 20/10/2023 | Namrata Soni |
| 21/10/2023 | Meet Jain |
| 22/10/2023 | Aditya Gadhvi |
| 23/10/2023 | Hardik Dave |
If you want to find out everything and see the full list, just click the link NAVRATRI FESTIVAL FUN: EXPLORE THE BEST VENUES IN AHMEDABAD .It's like opening a door to all the Navratri fun and excitement. Click now and join the celebration!
Conclusion
Navratri in Ahmedabad is a dynamic fusion of tradition, dance, and shopping. From spirited Garba dances to vibrant markets offering traditional attire and unique treasures, it's a celebration that captures the essence of Gujarati culture. Dive into the colors, traditions, and festivities for an unforgettable experience that's more than just a festival; it's a cultural journey.
You May Also like:
If you like this post and want to share the same with your friends you may follow us on our social media accounts on Instagram, Twitter, and Pinterest